Who's the author?
Full name

Giovana Soares

Location

Melbourne, FL

​

Education

M.P.S. Design Mgmnt

B.S. Marketing

​B.S. Business Admin

B.S. Mgmnt Info Systems

Interests

Design

Entrepreneurship

Technology

Veganism

Feminism

​Secular Humanism

Hi, I'm Giovana!

I love design, but I also love business. I have spent the last couple years as a creative strategist using my technology, business, and design skills to solve problems as they happen. I apply the Design Thinking process to strategic management, to information systems, to marketing, and to human resources. By assessing a company's or a brand's current situation and conducting primary and secondary research, I'm able to craft effective solutions and implement them for a more relevant audience targeting, better internal policies, improved communication, effective monitoring, and enhanced morale. I use Design Thinking as a problem solving protocol that can be applied to diverse facets of business with the goal of improving a situation by understanding the root cause of a problem and focusing on innovative solutions.
Powered by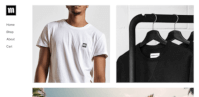 Create your own unique website with customizable templates.